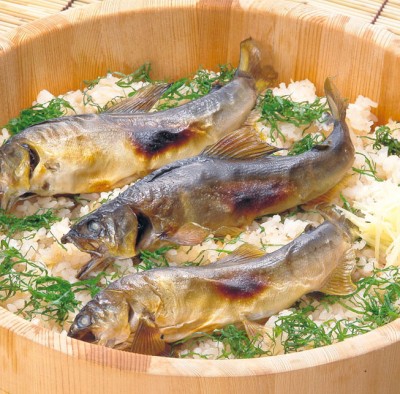 Tochigi
The gem by which the fragrance of the fish and the flavor sank into rice
Ayumeshi
The sweetfish which grows into a clear stream is treated by a festival and a fact day with the valuable ingredients from Tochigi-ken. It's boiled and bisque is used for sweetfish of business.

for 4 persons
Rice

3 cup (450g)

Raw sweetfish

4
[ The seasoning for rice cooking ]
Liquor

1/2 cup

Soy sauce

Tablespoon 1

Salt

Teaspoon 1/2
Water

2 and 1/2 cups

Soy sauce

teaspoon 1

A perilla

5

Ginger

10 g

Unglazed sweetfish For ornaments, (have)

3-4
1.

The seasoning and the water which wash rice, and are for rice cooking, shinshi, it's put for about 30 minutes.

2.

Sweetfish takes cotton.

3.

I put sweetfish on rice of(1) and ordinarily cook.

4.

If I cook, a head and a bone are taken, and a body of rice and sweetfish is disentangled and often mixed.

5.

Soy sauce teaspoon 1 is sprinkled, it's mixed and a blur is done including the rice cooking switch once again.

6.

It's heaped on a container and a fine strip of perilla and ginger cut into fine stripes are given a ride.

7.

Unglazed sweetfish is displayed (by taste).
Information provided by : "A dish of the hometown I'd like to hand down to a child and my grandchild and, TOCHIGI" issue Tochigi-ken agriculture person conversazione