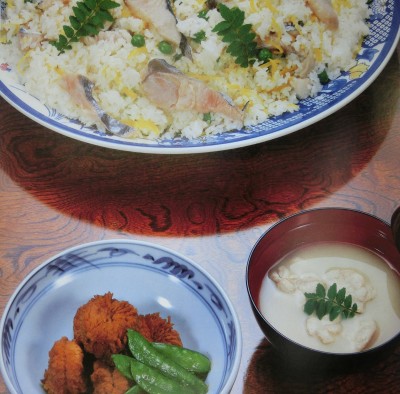 Okayama
A Sawara (Japanese Spanish mackerel) dish to represent spring
Sawara koko sushi
Sawara koko sushi is a dish made from locally caught sawara (Japanese Spanish mackerel). It has been made since the Meiji era, to celebrate the good catch and to wish for safety at sea. It is a dish commonly served at local gatherings also. It is said that people can make more than ten dishes from one sawara in Hinasecho area. The sawara caught in the outer sea is called "okurimono ", and is differentiated from "jimono", those caught locally.

for 5 persons
rice

4 cups

konbu (kelp) for dashi (soup stock)

10cm x 10cm

water

4 and 1/2 cups
[ blended vinegar ]
vinegar

6 tablespoon

sugar

3 to 4 tablespoon

salt

1 teaspoon
sliced sawara (fish)

200g

salt

1 teaspoon

vinegar

1/2 cup

takuan (yellow pickled radish)

200g

alaskan peas

100g

leaf buds of Japanese pepper

a little
1.

Wash rice with water and leave in water for at least 30mins. Add konbu (kelp) and when cooking rice, and remove it before boil. Leave rice for about 10mins after cooked and let it steam. Transfer all rice to a sushi oke (a wooden bowl for sushi rice).

2.

Make blended vinegar. Pour on top of rice, use fan to cool it down while mixing the rice well.

3.

Cut sawara into small pieces like sashimi. Rub salt to surface and leave for about 10mins, then leave in vinegar. Take it out when surface turns white. Leftover vinegar will be used for blended vinegar.

4.

Cut takuan (yellow pickled radish) into strips of 4cm long. Wash with water and drain in a basket. Boil alaskan peas with salted water. Cut red pickled ginger into small strips.

5.

Mix sawara (3), takuan and alaskan peas (4) with cooled rice.

6.

Serve on a plate with leaf buds of Japanese pepper on top.
Information provided by : 岡山県郷土文化財団「おかやまの味」