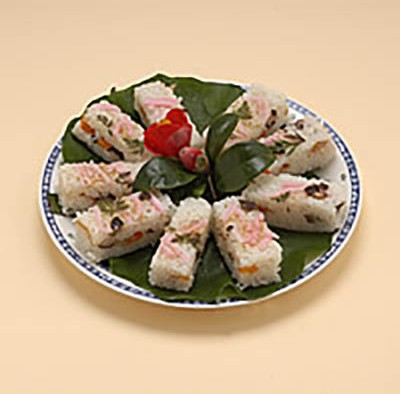 Kochi
A kind of festive sushi using silverleaves
Tsuwa Sushi
Tsuwa sushi, a kind of layered sushi with leaves of tsuwabuki (silverleaf) placed at the bottom of a ricemold that can contain 3升of rice has been made since long ago around Ashizuri and Kubotsu. This big mold is called "oshinuki" and is said to bring fortune, and as it pushes out a big shape people appreciate it as pushing away the bad spirits. The mold for one person is used in Tosashimizu . Earlier back, nori seaweed or eggs to wrap sushi were difficult to get hold of, and tsuwa leaves were used instead.

rice

4.5kg

vinegar

3.5 cups

sugar

570g

salt

120g

mackerel

5 middle-sized

yuzu citron vinegar

tekigi

suwabuki leaves

7-8
[ Ingredients ]
Dried white radish, dried shiitake mushrooms, carrots, sesame seed, aomi, red nori

tekigi
1.

Wash rice, drain water in a basket and cook with less water than usual

2.

Boil mackerels, remove bones, skin and red flesh, and make flakes (this is called sukoroshi)

3.

Add sugar, salt, flaked fish to vinegar and heat.

4.

Mix 3. into cooked rice. Mix well and cool. Add citron vinegar to add fragrance.

5.

Leave white radish and shiitake mushrooms in warm water.

6.

Cut 5. and carrots in small pieces. Add the mackerel broth, sugar, light soy sauce and salt, and simmer.

7.

Wash the tsuwabuki leaves well. Remove the white hair on the backside of the leaves.

8.

Place the tsuwa leaves upside down at the bottom of the mold and sprinkle sesame seeds.

9.

Place and flatten sushi rice on top, and place ingredients (remove water)

10.

Put sushi rice on top of the ingredients so they cannot be seen. Place aomi, red nori so that
y make a pattern.


11.

Turn over so the tsuwa leaves can be seen.

12.

Repeat the procedures A to D.

13.

Place stone weight and leave for a while.

14.

Cut with a knife slowly and serve.
Information provided by : oishifudokochi