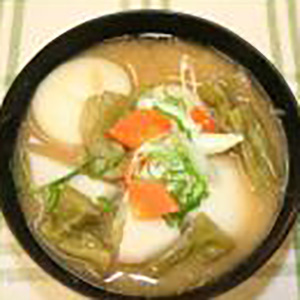 Oita
The woman whose term is near's meal to bring up a fine child
Child rearing dumpling soup
The miso soup which was made the purpose by which a woman whose term is near takes out milk and brings up a fine child much. Of mother's milk, bleeding better you make the dumpling made with glutinous rice and bad heart's blood are lowered the bumpkin who tells put RA in. It's made at various parts of the prefecture from the past. There is also an area where I slurp and call dumpling soup.

for 4 persons
Glutinous rice powder

200g

Dried stems of taro

10g

Taro potato

150g

Carrot

50g

Burdock

50g

Trepang

20g

Fermented soybean paste

100g

water

4 cups

Leek

suitable.
1.

The soup stock is passed with trepang

2.

Soak dried stems of taro in the water and cuts it into the length of the 2-3cm. I peel skin of taro potato and cut into round slices, and it's blanched and slime is taken quickly.

3.

One burdock, well, it's made a child and it's exposed to water. The carrot is made round slice and then quarter.

4.

Stems of taro, taro potato and burdock in a pot of soup stock, and it's put over a fire, and carrot is added and boiled from later.

5.

Water is added to glutinous rice powder a little, and it's kneaded until it'll be firmness which is about an earlobe. It's stick-type, I'll do, tear up and take the dumpling which is a flat circularly.

6.

If vegetables are cooked, fermented soybean paste is dissolved and put in, and a dumpling is put in.

7.

If a dumpling is rising, finish. Leek of slicing is scattered at the end.
Information provided by : The taste of the home / Local food which would like to leave it for young men