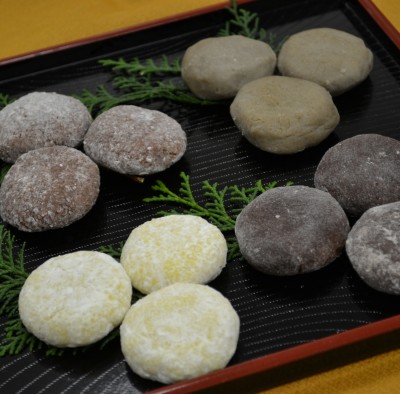 Tokushima
A savory dumpling made with grains.
Zakkoku mochi (zakkoku dango)
Grains have been main crops cultivated in the western part of Tokushima Prefecture because there is not much flat land in the mountain areas to cultivate rice or wheat. "Iya no konahikiuta (a song for grinding)" is a song that people sang when grinding grains with a stone mill, and they blew away sleep by singing this song in a low voice. Ingredients for zakkoku dango are, awa, hie, kokibi, takakig, soba, and corns. Dip in soy sauce when you eat. The size of one zakkoku dango is about 8cm in diameter, and it was usually eaten before meals, and is still eaten in a same manner today.

for 4 persons
takakibi

1 cup

water

1 and 1/2 cups
kokibi (yellow grains, also called mochikibi)

1 cup

water

240g
1.

Wash kokibi in a strainer with fine meshes.

2.

Add kokibi and water in a microwavable cooking container, and soak for 30 minutes.

3.

Microwave it for 5 minutes, repeat it twice, and steam it for 10 minutes.

4.

Put 3 in a speed cutter, and cut into small pieces.

5.

Soak hand with water, take about 30g of kokibi, and make a ball. Make 12 balls of kokibi.

6.

Sprinkle starch on it.
* Zakkoku dango goes well with wasabi and soy sauce, or sugar and soy
* Roast it when it gets cooler and firm
Information provided by : とくしまの郷土料理