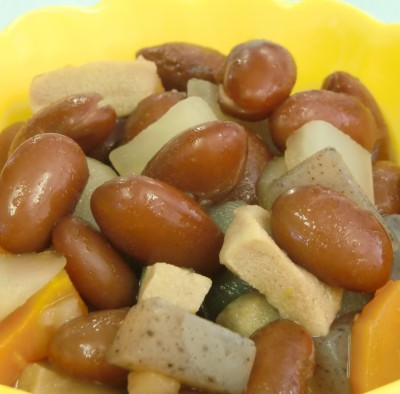 Tokushima
Gomokunimame with lots of root vegetables.
Odenbu (Rembu)
"Odenbu (Rembu)" is a gomokunimame made with beans such as Red kidney beans and Black soybeans, and root vegetables. In the old days, it was seasoned with Shiroshitatou. This is a dish for celebrations such as the New Year and tatemae to celebrate a newly-built house. Odenbu is one of the three specialties of osechi dishes which is cooked with a wish for "a healthy life for the year ahead" along with gomame and kazunoko. This is a very healthy dish with plenty of proteins and fibers and little fat.

for 4 persons
red kidney beans

1/2 cup

water

2 cups

2 or more tablespoon

white sugar

usukuchi shoyu

1 teaspoon

carrot

1/4

daikon

5cm

gobou/burdock root

1/3

koyadofu

1

konnyaku

1/5

middle size umeboshi

2
[ seasonings ]
dashi

1 cup

white sugar

1 or more tablespoon

usukuchi shoyu

1/2 or less tablespoon

sake

1 tablespoon

Japanese dashi

1 teaspoon
1.

Wash red kidney beans and soak in water as three times as beans. Soak beans over night if cooking in a regular pan, or 3 to 4 hours if using a pressure cooker.

2.

Put beans and water in a pan, heat to boil, drain in a strainer and discard the water.

3.

Put beans back in a pan, and add clean water so the beans are just covered.
If cooking in a regular pan : heat to boil, and simmer over low heat until beans become soft. Add white sugar and simmer for another 10 minutes.
If cooking in a pressure cooker : close the rid, set the heat to high. Once it gains pressure, and reduce heat to lower level and cook for 2 minutes. Remove from the heat, and leave until the pressure is completely gone. Remove the lid, and discard water if there is much left, cook until beans become soft, add sugar, and simmer for 5 minutes.

4.

Add shoyu, and remove from the heat. Leave it so the beans soaks the flavor.

5.

Soak niboshi in water and leave in the fridge over night. (It will be useful to put in a dashibukuro if you have any)

6.

Cut daikon and carrots into 1cm square pieces. Cut gobou into quater-round slices if gobou is thick, or into round slices if it is thin, and quickly simmer in boiled water (or microwave for 2 minutes)

7.

Heat niboshi dashi (5) to a boil, add the vegetables (6). Add white sugar, sake, umeboshi once dashi comes to boil. Add shoyu when the vegetables become soft. If there is too much water in a pan, move it into another pan, boil down to a right amount, and put it back to the pan with vegetables.

8.

Add red kidney beans at last, and bring it to boil.
Information provided by : とくしまの郷土料理