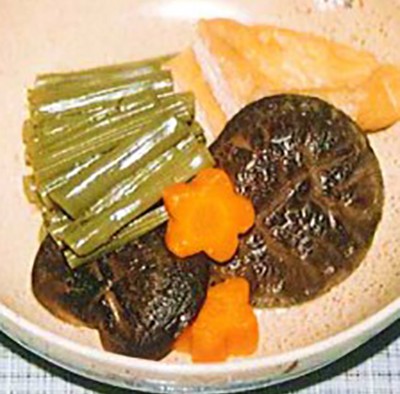 Toyama
A dish made with edible wild plants called "Yoshina" in Toyama Prefecture.
Yoshina no Nimono
"Yoshina" in general is referred to as edible wild plants called "Uwabamisou" or "Mizuna." These plants grow from spring to summer in a wet land in the mountain areas, and are used for various foods such as nimono, pan-fried dishes, and aemono.

for 4 persons
yoshina

150g

dried shiitake mushrooms

4

carrots

40g

aburaage

1 sheet
[ A Seasonings ]
shoyu

2 tablespoons

tablespoon sugar

1

teaspoons mirin

2

dashi

1 cup
1.

In a large pan, put plenty of water and a small amount of baking soda and boil for a couple of minutes. Soak and cool down in cold water.

2.

Cut yoshina into 5cm in length.

3.

Soak and rehydrate shiitake.

4.

Remove excess oil from aburaage by slightly boiling them or soaking in hot water. Drain well.

5.

Cut carrots into 5mm in thickness.

6.

Put A seasonings into a pan, add yoshina, shiitake, aburaage and carrots, and simmer them until they become soft.
Information provided by : 越中とやま 食の王国