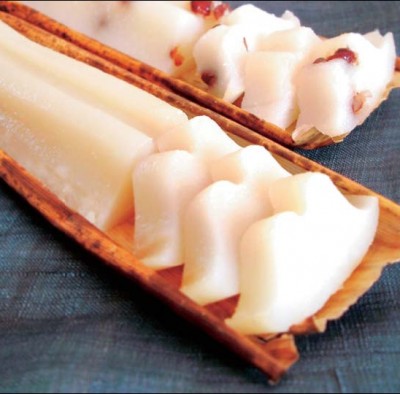 Gifu
The traditional snack I offered in case of a Girl's Festival!
Karasumi
からすみは、岐阜県の東濃地方、長野県の木曽郡南部と下伊那郡南西部、愛知県奥三河に伝わる銘菓で、米粉でつくった蒸し菓子のこと。昔からひな祭りには必ずどこの家でも作ってお供えをした。

Powder rice

1kg of rice

Sugar

1kg

Water

5 cup

Salt

a little

Topping (walnuts, leaf of peanuts, raisins, strained beans jam and perilla, green laver, chestnuts, brown sugar and peanut, etc.)
1.

If water is boiled, I put in sugar and salt and make boil.

2.

Powder of rice is forged by nyuu and low flame in the one melted to the above-mentioned work.

3.

If forging ends, it's put in a bamboo plate and it's steamed for about 40 minutes.

4.

If I finish steaming, mixing bowl NI is taken and it's often kneaded.

5.

The style is arranged in the style of Mt. Fuji, a bamboo sheath is laid out and it's steamed in the burnishing degree.
Information provided by : Gifu-ken Agricultural Policy Planning Department The agricultural product marketing department