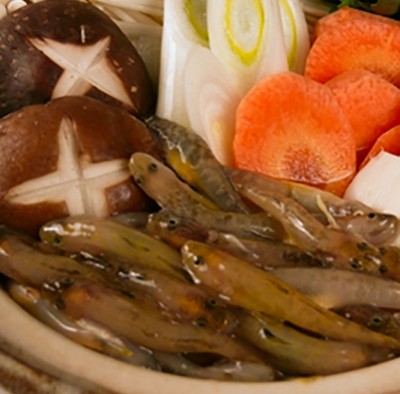 Shiga
" Jyunjyun" means "Sukiyaki"
Isaza no jyunjyun
The lake fish which lives in the bottom in Biwa-ko Lake where Gymnogobius isaza is about 8 centimeters of body height. I put in "Gymnogobius isaza" instead of meat, tie in egg and enjoy myself by a thing of "Sukiyaki". A bone is also soft fish, so it's possible to eat just as it is.

Gymnogobius isaza

500g

Leek

360-500g

Grilled tofu

1 piece

Water

1 and 1/3 Cup

Sugar

tablespoon 4

Strong soy sauce

tablespoon 6
1.

Gymnogobius isaza is washed beautifully and moisture is kept. The leek is made a chunk of 3cm and 2 cm of grilled tofu is cut square.

2.

Water and the seasoning are put in a sukiyaki pot, and if I boil, Gymnogobius isaza is also put in.

3.

If Gymnogobius isaza is cooked, grilled tofu and leek are put in and boiled. An umbrella is big, so leek shares with 2-3 times and puts it in.
Information provided by : Good taste collection in Shiga