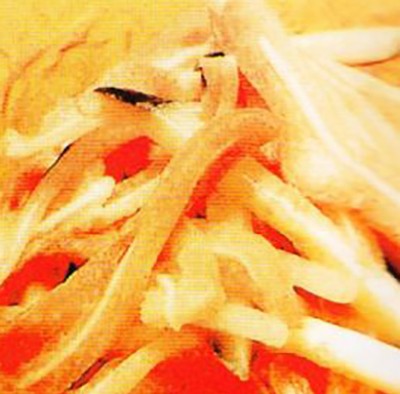 Okinawa
One of the dish you will be served for sure as a part of Ryukyu cuisines (Okinawan)
Mimigar Sashimi
Mimigar describes ears and Mimigar Aemono (mixed with dressing) is the dish you will be served as apart of Ryukyu cuisines. The texture is firm almost crunchy like jelly fish, and is loved by customers. Ears are boiled and dressed with vinegar and soy sauce, some time with peanuts base sauce.

for 5 persons
Mimigar (ear of pig)

100g

Cucumber

200g

Bean sprout

60g

Peanut butter

50g

Sugar

30g

White miso

19g

Salt

1/2 tea spoons

Vinegar

5 tea spoons
1.

Burn the hair of Mimigar by putting it on fire directly, rinse well and boil it for 40 minutes

2.

Slice Mimigar, salt them and let it rest. Rinse with boiled water to take out salt and oil

3.

Cut cucumber into fie strips. Boil bean sprout

4.

Mix all the condiments and to make a peanut vinegar sauce

5.

Mix Mimigar with cucumber, boiled bean sprout, and peanut vinegar sauce.
Information provided by : 沖縄県 農林水産部流通・加工推進課