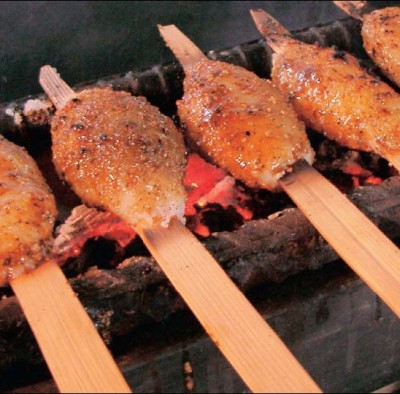 Gifu
A perfect harmony of rice and miso!
Gohei Mochi
This dish originates to long ago, when people working in the mountains stuck rice on pieces of wood and grilled them, and ate them with miso when drinking sake. People carried them as lunch. They are made to thank the gods after harvest in autumn. Also they are made when all family members gather or when guests are around.

rice

1.5kg

salt

1 pinch

walnuts or peanuts

1 cup

sugar

200g

miso

200g

mirin

1 cup

soy sauce

1 cup

bonito flakes

as needed

leaf buds of Japanese pepper
1.

Cook rice as usual. Crush 60-70% of them while they are hot and mix with salt.

2.

Place the amount of a small rice bowl thinly onto a wooden board. Cover with a cloth and make it into a sandal shape and let it cool.

3.

Crush walnut or peanut and grind in a grinding bowl. Mix seasonings and grind well until it becomes thick.

4.

Burn the rice until they are fully burnt.

5.

Put the sauce on the rice.

6.

Make fire on "naga konro" (gohei konro) with charcoal, and burn the rice while using a fan.
Information provided by : 岐阜県 農政部 農産物流通課