chapter 5「Smoked seafood caught in adjacent seas in Toba and seafood delicacies」
The seas adjacent to Toba are known as rich fishing grounds, where a lot of fat mullets have been caught. How have the people living in the Toba region taken mullet into their lives? We visited Uotora in Toba City, a store which offers smoked seafood. The store owner, Koji Sugita, was born as the third owner of a fish wholesaler based in Toba with about a history of 100 years. As time passes, however, he came to be fascinated by producing smoked seafood. He became independent from the wholesaler about 20 years ago. He sells processed seafood by using fish and seafood caught in Toba, such as smoked seafood made by his original home-made smoker, and oysters grown in Arashima Island pickled in olives. Sugita said: "Many years ago, many mullets could be caught in Toba, so the Toba Castle was represented by mullet's scales that wink from the sun light, called the Nishiki (brocade) Castle. It is also said that the castle walls facing the Ote Gate were painted black so as not to make mullets coming into the Toba bay be shocked." But marine contamination due to the high economic growth period reduces the value of mullet which disappeared from the market, causing the loss of customs of eating mullet. Recently, however, the sea has become much cleaner bringing back the gathering of delicious mullet. About two years ago, Uotora started making effort to revive the rice-bran pickles made with mullet caught in the winter season. This is commonly a homemade dish.
Rice-bran pickled mullet is an ancient preserved food eaten before the time when the refrigerator was invented. This dish is made by pickling mullet caught in the winter with its offal removed and placed in salt, rice bran, and malted rice. Uotora uses only natural ocean salt produced in the Khanh Hoa Province, Vietnam. This particular salt produce by a natural method completes the rice-bran pickled mullet with a rich and deep taste. "I think one year is enough for pickling the mullet. But now, we're trying to make two-year mullet pickles. When thinly-sliced fillets are grilled, it produces unique and deep aroma. I don't think sake lovers can resist that," so said Sugita. Sugita also said, "Rice-bran pickles have already become scarce, and almost nobody knows how to make them. But marbled yellowtails are very delicious, so I hope if many people can come to know how delicious they are by applying the traditional methods." Smoked mullet produced by using his original smoker is another exquisite dish. Mullet fillets are pickled in salt-malted rice, and then are smoked with wood chips of prunus and fagus, and then with peat for about six to eight hours. This method offers a deep smoked aroma and tender taste.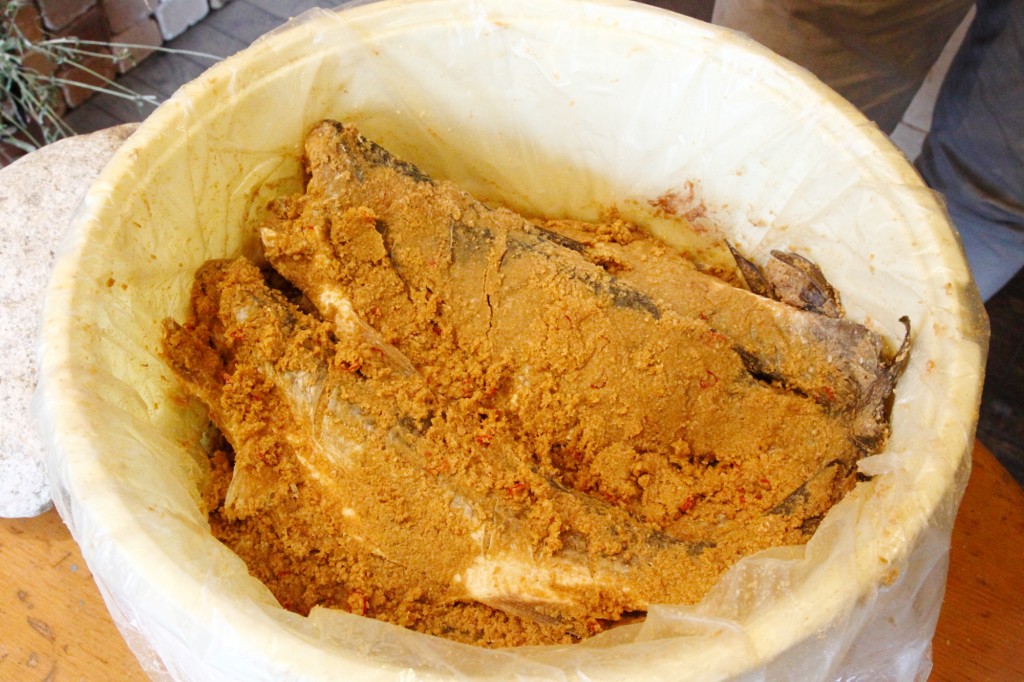 「Wisdom as to how to get the most of the taste of the food itself is a traditional food culture of fishing people」
Traditional dishes of fishing villages are passed on from generation to generation as dishes that take advantage of individual regional characteristics. Some dishes are rarely eaten or the taste has been changed due to changes in people's lifestyles. But the essence of enjoying natural blessings with delicious dishes still remains the same. Nomura, whom we interviewed first, said, "The best way to enjoy fresh fish is to eat as it is. So I think there was no need to invent and establish sophisticated cooking methods in fishing villages." Just as he said, throughout our trip, there were almost no complicated dishes by using particular seasonings or by frying the ingredients. However, making the most of the taste of the food by using limited seasonings is wisdom and an established food culture of fishing people.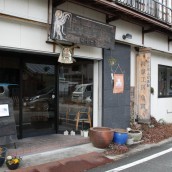 Kaido Kobo - Uotora
4-5-1 Toba, Toba City, Mie Prefecture
Tel: +81 599 26 4000
Operating hours: 9:00am - 5:00pm
Closed on: Wednesdays
http://www.kaidoukoubou-uotora.biz/