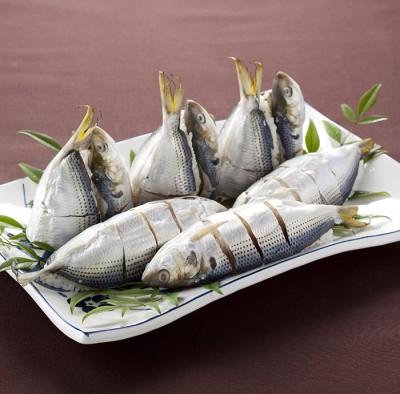 Kumamoto
A magnificent dish that goes back to the Edo period!
Whole shad sushi
The whole shad (gizzard shad) sushi is made by placing a sliced open shad on top of a block of cooked rice. The fish is first salted, then pickled in a sweet vinegar, which lends it a refreshing sweet and salty taste. This combined with the vinegar infused rice means you can enjoy this sushi without dipping in soy sauce. Also, the pickling process makes the bones of the fish soft and edible, so there is no waste here!

for 4~5 persons
[ For vinegar cure ]
Salt

2 tablespoons

Vinegar

150cc

Sugar

120g
[ Vinegar dressing ]
Vinegar

100cc

Sugar

100g

Salt
Ginger

small amount

Spring onion

small amount
1.

Open shad from the back and remove bones and guts. Wash thoroughly.

2.

Sprinkle salt on ① and leave overnight. Wash fish in viegar and dry.

3.

Mix vinegar cure ingredients together and place fish inside for 4 to 5 hours.

4.

Wash rice and leave for 30 minutes. Steam. Add vinegar dressing once cooked, and ginger and green inion, Leave to cool.

5.

Take ② and pat dry. Take rice from ④ and stuff into the fish.
※Make sure to wash the gut cavity thoroughly.
※This dish has been eaten during celebrations since many years ago.
Information provided by : Kumamoto prefecture village building association