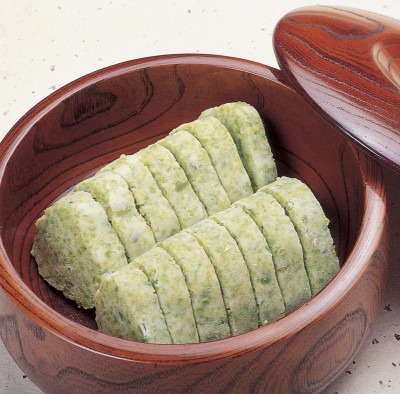 Iwate
Ceremonial offering of soy bean rice cake
Mame Suttogi
Mame Suttogi, or Mame Shitogi, is a traditional soy bean rice cake that was originally offered to mountain gods and goddesses on December 12 of the old Chinese calendar. Families used to make the dish during autumn and winter months when soy beans were harvested. Spring was also the time to make the cake, as people believed it would invite the Japanese bush warbler, which marked the arrival of spring. Nowadays, the cake is home-made by farming families in autumn when they celebrate their hard work for the year and good harvest, while ready-made cakes are also available.

for 4 persons
soy beans

200g

non-glutinous rice flour

150g

sugar

120g

salt

1/2 tablespoon
1.

Thoroughly wash the beans. Soak in water overnight, and drain.


2.

Boil water in a pot (amount: just to cover the beans), add a pinch of salt, and cook the beans.

3.

In 15 seconds after the water boils again and beans start to move, try one. Drain if it does not taste bitter or tangy. Wash in cold water to cool.

4.

Grind the beans in a blender, not too smooth, until they are granular (about 1mm). Mix rice flour, sugar and salt, add the mix to the beans, and mix well.

5.

Roll the dough into a 5cm-diameter rod, slice it into 1cm pieces and serve.
Information provided by : Agriculture Promotion Division, Iwate Prefectural Office