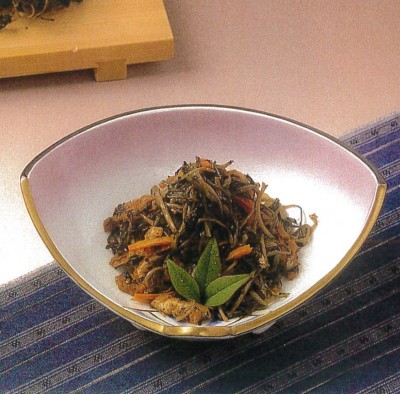 Yamagata
Traditional new year dish to wish for a good year
Hyo Hoshi
Hyo is another name of a native summer plant suberihiyu purslane. People of Yamagata lay out hyo harvested during summer in the sun so that the plant stores its vitamins. Hyo Hoshi, made by simmering hyo with uchimame crushed and dried soybeans, deep-fried tofu, fish sausage, and carrot, has been traditionally served across Yamagata to celebrate the new year, as it is considered to bring good luck to those who eat it.

for 4 persons
rehydrated hyo

400g

deep-fried tofu

2 pieces

uchimame

1/4 cup

carrot

50g

fish sausage

1 piece

cooking oil

2 tablespoons

soy sauce

3 tablespoons

sake rice wine

3 tablespoons

sugar

2 tablespoons

salt

1/3 tablespoon

dashi broth

1 cup
1.

Wash dried hyo, put it in a pan of water, bring it to boil, and leave it soaked overnight.

2.

Change the soaking water a few times the following day.

3.

Rid the oil of deep-fried tofu by pouring boiling water over it. Cut them into strips. Cut carrot into similar-sized strips.

4.

Cut fish sausage in half lengthwise, and then into 5mm slices.

5.

5. Cut the rehydrated hyo into 3-4cm strips.

6.

Sauté all the ingredients, add dashi broth and all the seasonings, and simmer on a medium heat until the liquid is nearly all evaporated.
Information provided by : Yamagata cuisine recipe book Yamagata Kyodo Ryori Tanbo