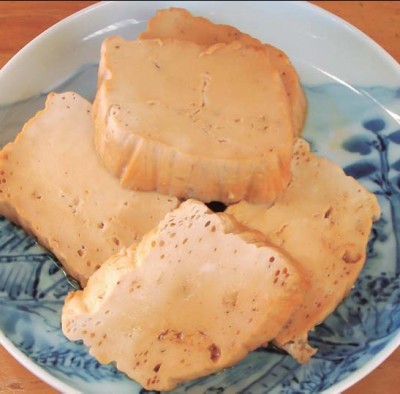 Gifu
The tofu which smells of the straw eaten certainly in rejoicings!
Gomodofu
By the one made rejoicings certainly, KO, it's said that this name was born from the place where it's wrapped and it's boiled by boiling water. The fragrance and the design of the straw which sank into the surface of the tofu are the feature. It was inserted in soup containing rice cakes at New Year's and that was used in osechi ryori and delicious food of a Buddhist memorial service.

Tofu

1 piece

Straw

suitable

Sugar

tablespoon 3

Soy sauce

tablespoon 3

Stock

1/3 cup
1.

A piece of tofu is cut into lengthwise half and straw is also cut into the length of the tofu.

2.

Tofu is wrapped in straw and it's tied.

3.

Tofu is boiled in a pot.

4.

It's cut into a little slanting 2 cm thickness.

5.

I put stock, sugar and soy sauce in a pot and make them boil, and tofu is put in and it's cooked on low heat.
Information provided by : Gifu-ken Agricultural Policy Planning Department The agricultural product marketing department