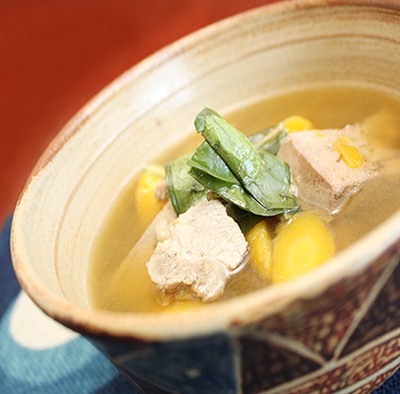 Okinawa
The outstanding nutritive value is a guarantee of longevity!
Chimushinji
The one which called the soup which boils and makes the ingredients "Shinjimun (decocted dish)" and used lever (liver), Chimushinji. It's inherited as an alimentation food.

for 2~3 persons
Pig liver

300g

Pork (Guyanji)

150g

Water

4 cups

Carrot

130g

Salt

teaspoon 2

Nigana

25g
1.

A pig lever is rubbed with stable condition salt and a wash is done, and it's scoured and one without blood is made enough several times.

2.

Carrot peels skin, cuts into chunks and cuts NIGANA into about 4 cm.

3.

I cook over a high flame including water of the quantity in a pot, and if I boil, pig lever and pork are put in and cooked. If I'm boiling, I skim it and turn down the heat.

4.

If meat can be cooked, it's cut into bite size, carrot is added and it's boiled for about 30 minutes.

5.

When salt and crushed garlic are put in, the taste is more outstanding to like.
Information provided by : Okinawa-ken Marine Products Division circulation of agriculture and forestry and the processing promotion department