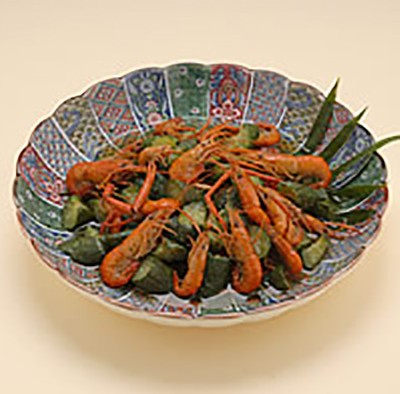 Kochi
A summer dish made of seasonal shrimps and vegetables
Simmered cucumber and shrimps
Since long ago, people ate simmered river shrimps from Shimantogawa river and large cucumbers from the field in summer.



for [:ja]4[:en]Serves 4[:de]4[:ru]4[:es]4[:fr]4[:it]4[:ko]4[:th]4[:zh]4[:ch]4[:] persons
river shrimps

200g

cucumber

500g

water

2 cups

sugar

osaji1

soy sauce 

osaji1
1.

Cut cucumbers into large irregular chunks.Large cucumbers grown outside suit this menu the best (as the flesh is firm)

2.

Put river shrimps and water in a pot and heat.

3.

Add sugar, soy sauce and cucumber when comes to boil and finalize the flavor.
Information provided by : oishifudokochi