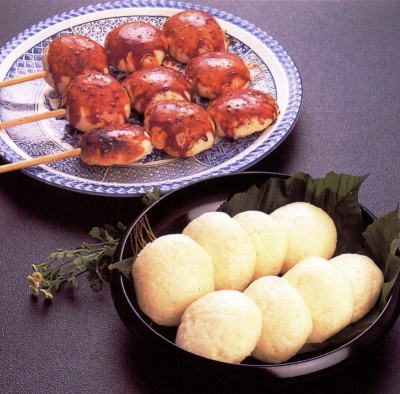 Gunma
The taste of the Gunma heart infliction by which the mouth remembers around the child who stuffed his mouth fully
Baking bean jam bun
I'll take a like dumpling, and the fabric fermented by the koji including raw sake in flour is stuck into a skewer, and applies fermented soybean paste dragging, puts over a fire, slightly browns and makes. There are various views, but you assume there was history in more than 150 and that it spread by an exchange between the workers in commerce and industry on a fiber relation in Gunma-ken where a sericultural industry and a silk fabrics trade are popular, and origination equals a street stall in the New Year's first market, flower viewing and an event of a summer festival so that you may say that it be sure. The kind of taste is increased recently, and a baking bean jam bun with bean jam is happened to see. The Gunma-ken sightseeing product department made "baking bean jam bun guide book" in 2009 for the purpose of recognition of a baking bean jam bun.

for 30 persons
[ A ]
Rice malt

1/2 cup

Rice

1 cup

Flour (weak flour)

1/2 cup

Lukewarm water

2 cup
[ B ]
Flour (Weak flour)

550g

Sugar

1/2 cup

Baking soda

pinch
[ Sauce ]
Red miso

150g

Sugar

300g

Water

150g
1.

The material [A] is mixed and it's put in the warm place.

2.

When 2-3 day and night has passed by about 2.30 ℃, the surface is hearing the tone as "pimple" and the start of bubbling "Sir". If a bubble goes off and a grain of rice is rising to the top, a lower back "make" is made with a washcloth.

3.

It's used together with flour of [B] and baking soda.

4.

[A] in a bowl, I put sugar in 250-300cc and 3, knead each other and knead in the toughness which is about an earlobe.

5.

I tear in 25 grams for 5.1-30 grams, round, arrange the shape, place on the box which did floured surface, get wet, bet a washcloth and ferment.

6.

A steamer is heated up. If a bean jam bun swells at about 2 times and it'll be pressed with a finger, and leather is swelling so that it may be elastic, a bean jam bun is placed on the steamer which got wet and laid out a washcloth.

7.

If the surface of the bean jam bun is being graceful, it's steamed for 25 minutes by a high flame.

8.

If I finish steaming, it's expanded into a basket with the bottom of a bean jam bun on top, it's fanned with a fan and the bottom is dried.

9.

It's often added to a pot including the material of [sauce], and it's boiled down while putting over a fire and building up by a comb by a tree. Even if a bubble goes out short, heat is turned off.

10.

Bake a bean jam bun with a net and if the baking color sticks a little, thrust at 9, that it's browner with a net, if it's baked, finish.
Information provided by : Local food hundred pieces in rural district and fishing village