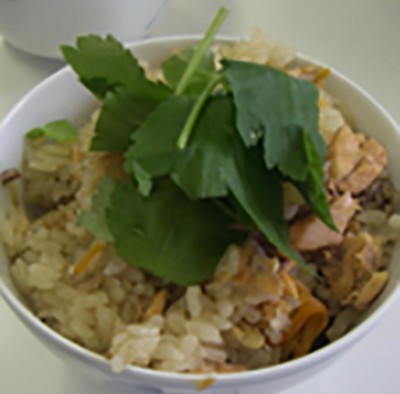 Shiga
A representative delicacy of Biwako Lake
Biwa Trout Rice
Biwa trout does not have the bad smell which are common to freshwater fish. It is a kind of fish of high quality with some sweetness in the flesh and fat that melts in your mouth. Cooking it together with rice brings the full flavor of the biwa trout, making a delicious dish with superb fragrant and taste.

for 4 persons
Biwa trout

200g

rice

2.5 cups (400g)

shiitake mushroom broth

2.5 cups (500ml)

soy sauce

2 2/3 tablespoons(40ml)

sake

1 1/3 tablespoons(20ml)

mirin

1 1/3 大さじ(20ml)

dried shiitake mushroom

1

carrots

20g

burdock

15g

ginger

as needed

mitsuba

as needed
1.

Leave dried shiitake in water. Keep the broth to cook with rice.

2.

Wash rice and leave in a basket to drain the water.

3.

Cut shiitake mushrooms and carrots in thin strips. Cut burdock in long thin shavings, leave in water to remove harshness. Cut mitsuba in 3cm.

4.

Sliver both sides of the biwa trout. Keep the fish eggs separately.

5.

Put shiitake mushroom broth, soy sauce, sake and mirin in a pot and bring to boil. Add biwa trout and simmer. Take out the biwa trout when cooked. Remove the skin and bones and flake the fish. Keep the soup to cook with rice.

6.

Loosen the eggs if possible. If they are stuck to the skin, boil in the sauce and remove the skin.

7.

Measure the amount of the soup. Add water so it becomes 600ml (3 cups).

8.

Place rice and (7) in a rice cooker. Place Biwa trout flakes, shiitake mushroom, carrot, burdock, eggs and ginger on top and make them flat. Cook them altogether.

9.

Leave to steam for a while once it is cooked. Mix well.

10.

Serve in a rice bowl and garnish mitsuba on top.
Information provided by : 滋賀のおいしいコレクション