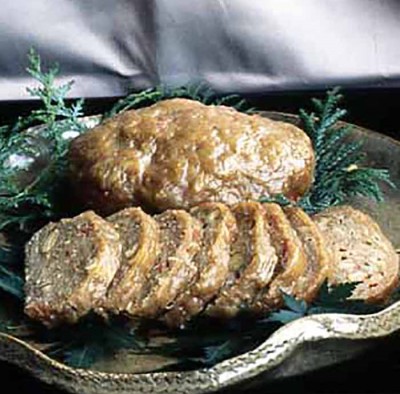 Saitama
Sweets eaten on celebrations in Chichibu
Ebishi
Ebishi is a traditional sweets from chichibu region containing small pieces of Yuzu (Japanese citrus) peel and nuts. It is originally made as a preserved food during the Sengoku period (1467-1590) and been served as a part of wedding dinner until the end of the world wars.

for 6 persons
Water

1 cup

Soy sauce

7 tbs

Oil

3 tbs

Wheat flour

450-500g

Sugar

1 tbs

Sesame

2 tbs

Walnuts

50g

Peanuts

50g

Yuzu

a little

Red pickled ginger

a little
1.

Roughly chop walnuts and peanuts, finely chop yuzu peels and red pickled ginger. Mix them with flour, sugar, sesame, sake, soy sauce and little bit of water and kneed them together.

2.

Shape it into like a log, place it in the steamer and cook for 20-25 minutes.

3.

Slice and serve on the plate.
Information provided by : Saitama traditional local food recipe book