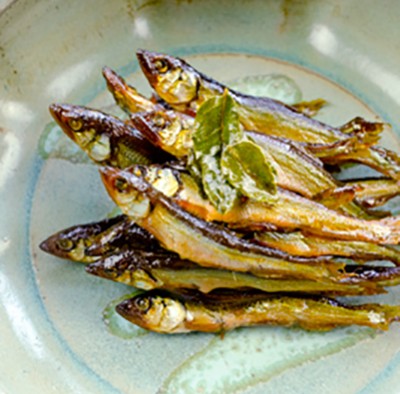 Shiga
Spring treasures of Biwako Lake
Koayu simmered in Japanese Pepper
This is a dish of small ayu (sweetfish) caught in Biwako Lake simmered with Japanese pepper in sweet and salty sauce. Even the bones become soft so the whole fish can be enjoyed. Be careful not to touch it while simmering it, as the heads will come off!

for [:ja]5~6[:en]Serves 5-6[:de]5~6[:ru]5~6[:es]5~6[:fr]5~6[:it]5~6[:ko]5~6[:th]5~6[:zh]5~6[:ch]5~6[:] persons
koayu (small sweetfish)

500g

Japanese pepper corns

20g

soy sauce

1/2 cup

sugar

1/2 – 3/4 cup

sake

50~70ml

mirin

osaji2
1.

Wash the koayu and drain the water.

2.

Boil soy sauce, sugar and sake in a pot and bring to boil. Add the koayu.

3.

Add Japanese pepper corns when the sauce boils. Simmer in gentle heat for about 20mins.


4.

Add mirin when the sauce boils down. Simmer for about 5mins in low heat.

5.

Turn over the fish before the sauce boils down.
Information provided by : Delicious collection of Shiga Prefecture