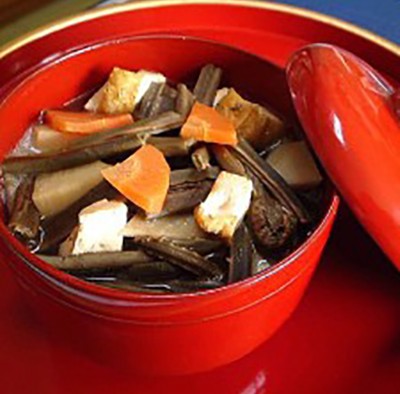 Toyama
The hospitality dish stood at an inn and a cathedral
Tsuboni
Because it's heaped on a vermilion-lacquered bowl with a lid called "pot bowl", I deal with the cooking which started to be called "pot boiling". "KUGOMI" and the called wild vegetable which begin to come into leaf in early spring are boiled, it's made insolation, it's preserved for pot boiling and it's used.

Dry kugomi

100g

Carrot

2-3

A taro potato

10

Thin fried tofu

2
[ Seasoning ]
Sugar

suitable

Soy sauce

suitable

Liquor

suitable.

Sweet rice cooking wine

suitable

Soup stock:

suitable

Salad oil

a little
Information provided by : Etchu, Kingdom of the food.