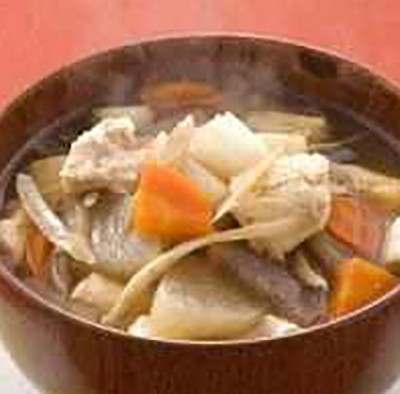 Saitama
The dish which heats up a body a winter holiday
Kenchin-jiru
The dish added to the table a holiday of "barbarian kou" which entertains Mr. Ebisu on November 20. It's made with fermented soybean paste by an area.

Carrot

100g

Burdock

100g

Japanese radish

100g

Chinese cabbage

100g

Taro potato

300g

Mushroom

100g

Tofu

1 piece

Konnyaku

100g

Oil

Tablespoon 3

Soy sauce

Tablespoon 3

Fermented soybean paste

80g

Soup stock

7 cup
1.

Burdock makes something rather thin slicing and does one without lye by water. When cutting into round slices and Chinese cabbage are a coarse cut of 2cm, and tofu is a hand, Japanese radish and carrot shave the strip of paper limit and taro potato.

2.

Oil is heated in a pot and burdock is fried.

3.

About 1/3 fries including the material besides the tofu, and puts in soup stock.

4.

If a topping becomes soft, soy sauce and fermented soybean paste are put in.

5.

If remaining soup stock and tofu are put in, and boils, finish.
Information provided by : The folklore dish collection of the taste folklore man Saitama home in home