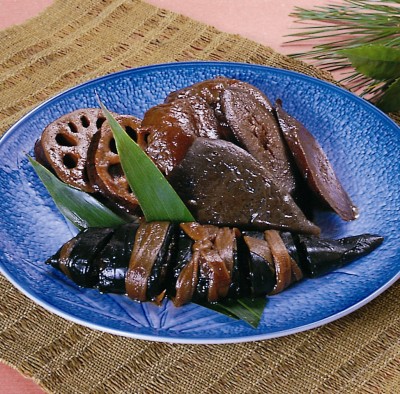 Saga
A dish for celebrations
Crucian carp wrapped in kelp
An ancient recipe for food preservation hailing from the Kagishima area. A crucian carp is wrapped alive in kelp, and boiled together with daikon radish for close to an entire day. The Saga/Hirano area has a wide network of canals for irrigation purposes. The canals are 'drained' once a year during fall, and the crucian carp caught at this time are transformed into this dish. The dish is eaten during the 'Okunchi' festivals and other auspicious days. At Kagoshima city, a special crucian carp market is held close to new years annually, where the fish sold are made into dishes to give to the gods of prosperity. This tradition goes back more than 300 years.

Crucian carp

5-6kg

Sake

2-3 cup

Kelp

1kg

Daikon

3-4

Burdock

3-4

Ginger

1

Mirin

2 cup

Sugar

1kg

Chili pepper

3-4

Miso

2kg
1.

Thin out the miso with water. Bring to boil and add sugar, mirin and half the sake.

2.

Wash kelp and half dry. Cut daikon and burdock into large pieces (you may add lotus root or carrots too)

3.

Descale the fish and wrap a piece of kelp around each one.

4.

4 Place straw in bottom of large pan (Can substitute with bamboo skin or chopsticks) and place burdock, kelp wrapped carp, daikon chili pepper and ginger on top.

5.

Add 1 and first cook on high flame while removing foam from surface. Once boiled lower the heat and place drop lid. Add remaining seasoning.

6.

Keep adding 1 as liquid reduces. Boil 10-13 hours.
Information provided by : Saga Prefectural Manufacturer Support Division