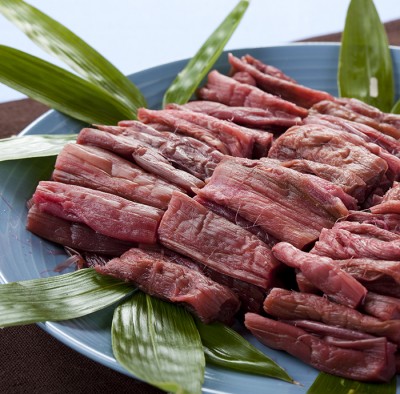 Kumamoto
Ringing in the fall season for the Aso region!
Pickled red potato roots
These particular red potatoes are grown in the Aso region (especially central Aso). The roots of these potatoes are pickled and known as 'Akado pickles'. It is a very local dish, and the red, fleshy appearance of the pickled root has led it to be called the 'horsemeat sashimi of Aso'. Likewise, it is served with grated ginger and soy sauce.

Red potato root

10kg

Salt

300-400g

Vinegar

1cup
1.

Remove leaves from the potato root and clean.

2.

Place plastic sheeting on large lid, add red potato roots and salt.

3.

Wrap in plastic and place weight on top. Leave overnight.

4.

Once the roots are tender, place in large pickling pot and pour vinegar on top. Add weight on. A black liquid will rise to the top, which should be skimmed. After 10 days the liquid should become red. Takeout the root and cut into 3-4 cm bite size pieces.
※ Once it has all turned red, switch to keeping in the fridge. The color will keep better. (Left outside it will go black)

Information provided by : Kumamoto prefecture village building association