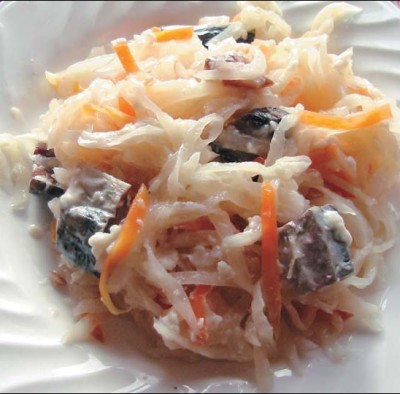 Gifu
Treat at New Year's. Gem in a hometown necessary to a dining table
Nishinzushi
To make snow lack of deep local winter animal silkworm white up, it seems to have bought, have pickled and have eaten many autumn and herring. Herring ZU SHI is also called another name NEZU SHI, and it's said to be the name which has put it in a container and has arrived from the meaning as about one week "It can be put to sleep." Something to avoid and use trout as substitution of herring was often pickled certainly before New Year's, and it was necessary on the dining table as a treat at New Year's.

Japanese radish

5kg

Carrot

500g

Koji

800g

Rice

9 cup

Salt

teaspoon 2

Herring

15

Salt (the salt in which Japanese radish and carrot are pickled)

teaspoon 3
1.

I cook rice hard and mix including koji. (I'll take* sweet drink made from fermented rice 20 ℃.)

2.

Souse KEKE (8 hours) cuts Japanese radish and carrot into fine strips, and squeezes solidly. I wash herring beautifully, bet boiling water, drain off water and cut it small.

3.

Salt is mixed with something finished by the above-mentioned process, and it's crowded, and it's put in a container and a weight is done.

Information provided by : Gifu-ken Agricultural Policy Planning Department The agricultural product marketing department