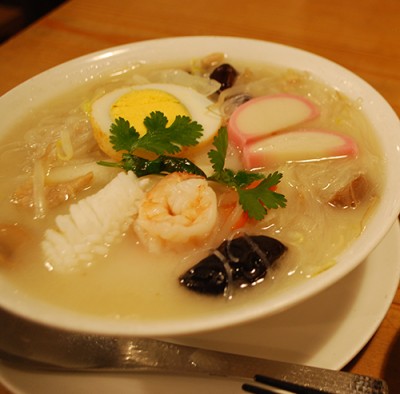 Kumamoto
Served at school lunches, this Kumamoto favorite was actually born in China
Tai-Pi-En
Made with plenty of green bean thread noodles and vegetables, the healthy Tai-Pi-En contains pork, prawns, squid, cabbage, carrots, seasonal vegetables and egg. It is served in a chicken or pork broth, and is loved by locals. It originates from Hokkien province in China, and was brought over by migrants during the Meiji period (1868-1912) and has since been modified to suit Japanese tastes. It can be found at Chinese restaurants across Kumamoto and the flavors come in soy sauce, salt or pork bone. It can even be purchased in 'instant noodle' form now.

for 1 persons
Green bean noodle

120g

Chinese cabbage

1 leaf

Beansprout

one bunch

Carrot

2 slices

Bamboo shoot

2 slices

Wood ear fungus

2 slices

Mushroom

2

Straw mushroom

2

Prawn

1

Squid

1 piece

Fish cake

2 piece

Pork

2 slices

Deep fried egg

1/2

Coriander

small bunch
Chicken stock

500cc

Lard

5g

Sesame oil

small amount

Oil

small amount
[ A ]
Salt

small amount

Pepper

small amount
1.

Place little oil in pan. Fry pork, Chinese cabbage, and bean sprouts. Add soup and boil further minute.

2.

Add squid and prawn to ① and cook briefly. Remove.

3.

Add all ingredients (except for squid, prawn fish cake, deep fried egg and lard) to ②. Boil for a minute and add A.

4.

Place ③ in serving bowl. Add squid, prawn, fish cakes and deep fried egg on top. Sprinkle with sesame oil and coriander.
Information provided by : 農山漁村の郷土料理百選