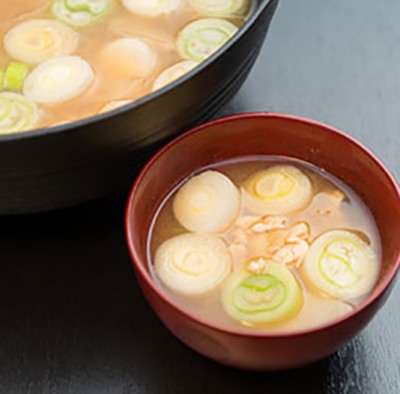 Shiga
The taste of the winter snow zone using nutritious soybeans
Uchimame-jiru
The taste of the dining table you have enjoyed by snow zone in winter in Kohoku area in Biwa-ko Lake and Ika-gun. The one a drop of strike beans crushed, and by which made a drop of soybeans dry by a hammer. You can tell a competition that Nobunaga gave it to a soldier preferably by the grounder adjustment to which he says "He defeated." Nobunaga leek will be the shape also fascinating to the appearance by cutting into round slices also sweets stand out by boiling carefully.

[ 2 ]
Nobunaga leek

1

beans

40g

Light fried bean curd

1

Koimo

4

Fermented soybean paste

proper amount

Soup stock

proper amount
1.

It's struck in the soup stock and beans and light fried bean curd are put over a fire including Koimo.

2.

If fermented soybean paste is untied, the Nobunaga leek I cut into round slices of the 1cm width is put in.

3.

When leek is cooked, it'll be completed.
Information provided by : Good taste collection in Shiga