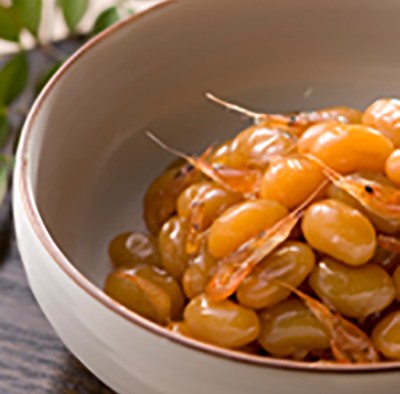 Shiga
Till your back bends like a shrimp
Shrimp Beans
This is a dish of shrimps and beans simmered together. It is enjoyed as one of the osechi dishes of the new year, to "live long till your back bends like a shrimp, and faithfully like a bean". River shrimps can be caught throughout the year in Biwako Lake and they are enjoyed as a popular daily food.

[ 4 ]
sujiebi (lake prawns)

200g

soy beans

200g (500g boiled soy beans)

light soy sauce

1/2 cup

sugar

2/3 cup

sake

1/4 cup

mirin

2 tablespoons
1.

Leave the beans overnight in salted water. Boil until they become soft.

2.

Boil soy sauce, sugar and sake in a pot. Add prawns.

3.

Add the beans when the color of the prawns change and bring to boil. Simmer for about 20mins.

4.

Add mirin when the soup boils down and bring to boil again.
Information provided by : 滋賀のおいしいコレクション