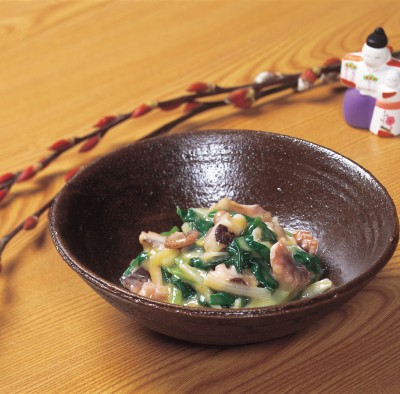 Kagawa
A compulsory spring dish
Wakegi Ae
Wakegi (scallion) has been grown since long ago in farm households as seasonal vegetables. People have enjoyed them as aemono (vegetables with dressings) of spring. Wakegi tastes the best around the doll's festival season, and it is often mixed with razor clams or asari clams. Sweet unsalty white miso, made around the end of the year to use for zoni (rice cake soup) is used as dressing. Rice grasshopper, small fish, or deep fried tofu are occasionally mixed together, according to the home recipes.

for 4 persons
wakegi (scallion)

1 bundle (180g)

octopus (or razor clams or asari clams)

150g
[ Mustard vinegar miso ]
white miso

60g

mustard paste

kosaji1/4

vinegar

osaji2~3

sugar

30g
1.

Wash the wakegi and divide them from the white part and green part. Cut each into 3cm long.

2.

Add white wakegi in boiling water, then add green wakegi. Take out in a basket and cool (frying them with a little amount of water is also ok).

3.

Rub octopus with salt and remove the sliminess. Add a pinch of salt in boiling water, boil the octopus briefly and cut into bite-size. If using razor clams, remove sliminess and sand with lightly salted water. Roast and add sake.

4.

Put white miso, mustard paste, vinegar and sugar in a grinding bowl and grind. Mix well with cooled octopus and wakegi.
Information provided by : kagawaken nouseisuisanbu nougyokeieika