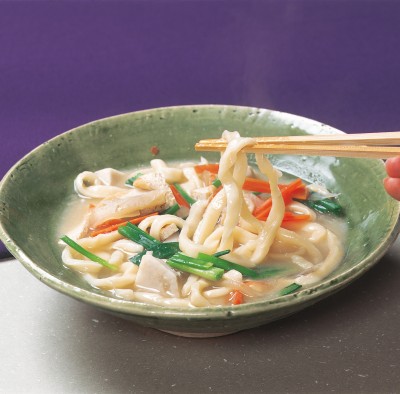 Kagawa
An easily made daily food of farming communities
Uchikomi jiru
Uchikomi jiru was made frequently as daily food in all households in farming communities, using plenty of seasonal vegetables. Some noodles are thin and some are thick, but that is a sign of handmade dishes. Salt is not added when kneading the flour when making uchikomi. It is a quick soup dish made by housewives who return home from the farm before her family members.

medium ground flour

300g

water

160cc

white radish

300cc

carrots

100g

burdock

100g

taro

150g

deep fried tofu

1

spring onion

little

miso

100g

dashi (small sardines)

7cups

Warning: Invalid argument supplied for foreach() in /home/kyodoryouri/kyoudo-ryouri.com/public_html/wp-content/themes/kyodo2/en/single-food.php on line 91

1.

Add flour and water in a bowl. Mix well and leave for 2-3 hours.

2.

Place dusting flour on a flat surface and spread (1) into a 5mm thick sheet. Fold the dough with plenty of dusting flour, cut into 5mm strips and untangle them.

3.

Put dashi in a pot, add white radish, carrot, taro, burdock and deep fried tofu and boil. Add the noodles, boil for 7-8mins and add miso.

4.

Finish with spring onion toppings.Chicken, pork, shiitake mushrooms can be added also.
Information provided by : kagawaken nouseisuisanbu nougyokeieika