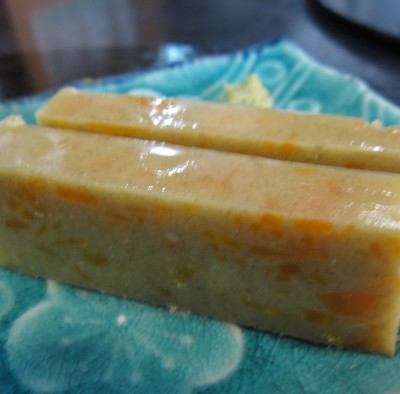 Nagasaki
Healthy and flavorful! A specialty of Shimabara
Igirisu
A dish made from dried seaweed which is then boiled with rice husk water and water from boiling soy beans, along with carrot, fish, and sometimes even peanuts. The resulting mix is formed into a moist cake. It is served often at weddings, and the name derives from the seaweed at the core of this dish, which is known as 'Igisu'.

for 2 persons
Dried seaweed

50g

Rice husk

100g

Rice husk juice

4-5cc

Tofu

1/2 a block

Mackerel

1/2 a medium sized fish

Carrot

1/2

Woodear mushroom

2

Peanuts

50g

Light soy sauce

80cc

Sugar

2 tablespoons

Oil

1 tablespoon
1.

Slice finely the carrots and woodear mushrooms. Cut tofu to 1cm blocks. Grill peanuts and crush them. Remove mackerel bones and chop into chunks.

2.

Place oil in pan and fry mackerel. Add carrot, woodear mushroom and tofu, in that order.

3.

Remove any dirt from seaweed and clean with some rice husk water.

4.

Take rice husk juice and 3 into pan. Slow heat for 15 minutes to ensure no burning.

5.

Add 2, 4 and peanuts. Season to taste. Pour mixture into mold and refrigerate. Cut into whatever size chunks you prefer.
Information provided by : Nagasaki Prefecture Agricultural Department