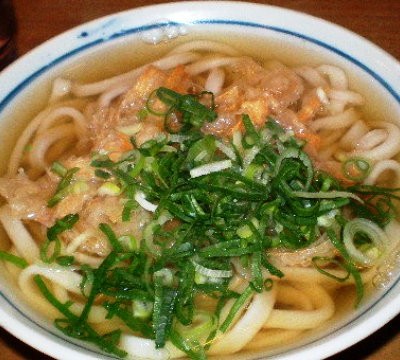 Fukuoka
The most popular udon dish from the home of the udon noodle, Fukuoka!
Burdock tempura udon noodles
Fukuoka is known as where udon originates from, and therefore as the 'kingdom of udon'. Generally, the noodles are softer, rather than chewier, and the accompanying soup is made from stock taken from dried fish such as bonito, round herring, mackerel, sardine and flying fish along with kelp seaweed stock that is flavored delicately with soy sauce. The most way to eat udon in Fukuoka is toped with a burdock tempura. The slices of burdock may be fried together in a kind of loose patty, or individually like French fries, to be placed on top of the hot soup and noodles. It is a simple dish, yet the crispy tempura, the soft noodles and the crisp batter that absorbs the delicious soup all make for a wonderful experience.