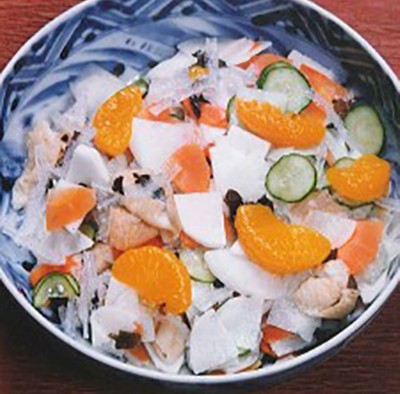 Toyama
the cooking which uses so many kinds of vegetables
Kaburanoyacyara
YACHARA is made the dish which spread around Takaoka-shi and Tonami-shi, and you assume that it's derived to use 8 of ingredients because of or using many vegetables in "immoderateness". It was the dish to offer at a god originally, a Buddhist memorial service and, even ordinary homes deified and started to be offered as hospitality at New Year's, and started to be eaten.

for 4 persons
Turnip

Small 3 (240g)

Carrot

20g

Cucumber

1/2

Chinese yam

80g

Bran

2

Thread agaragar

2g

Jew's-ear

2g

Peel of citron

a little
[ A: blended vinegar ]
Vinegar

Tablespoon 3

Sugar

Tablespoon 1

Salt

Teaspoon 1/2
1.

Turnip cuts round slice and then quarter and cucumber into round slices, sprinkles salt lightly and makes them flexible. I have skin of citron in cutting into fine strips.

2.

The carrot is made round slice and then quarter and it's blanched quickly.

3.

The Chinese yam is made round slice and then quarter and it's put on the blended vinegar of A.

4.

Bran, thread agaragar and Jew's-ear are rehydrated in water respectively and it's cut into the size easy to eat.

5.

(2) can add(4) to(3)(1) each other.

6.

It's heaped on a container and citron is scattered.
※ I'll make and make the taste sink in rather early.
Information provided by : Etchu, Kingdom of the food