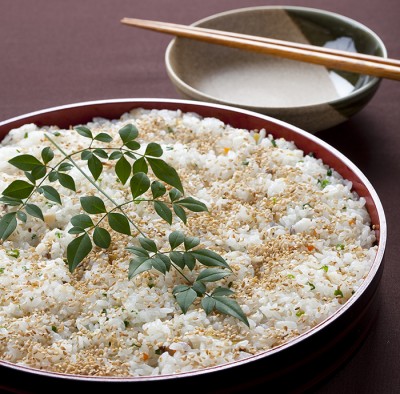 Kumamoto
A while plethora of vinegar cured fish for this luxurious dish!
Bu-En suchi
Bu-En refers means 'no salt' and refers to the fresh fish in this dish being cured by vinegar only with no salting process. The fish is mixed with rice and has a sweetness to it, that is so prevalent in teh cooking of the Amakusa region of Kumamoto. The most revered traditional food the Matsushima district is Bu-En sushi made with snapper, sea bream and gizzard shad caught locally. It is a must-serve dish at weddings and other celebrations.

for 15 persons
Rice

1 large bowl

Raw fish(Snapper, goby etc…)

500-700g

Vinegar dressing

Vinegar 220cc/ Sugar 260g/ Salt 30g
[ Mixing ingredients ]
Dried shiitake

6

Carrot

1

Burdock

1

Dried daikon

30-40g

Sesame

small amount
[ A ]
Soy sauce

1/2cup

Sugar

30g

Sake

Small amount
[ B ]
Vinegar

1/2cup

Sugar

80g

Ginger

small amount

Spring onion:Small amount

small amount
1.

Wash rice and leave for 30 minutes. Cook in same amount of water.

2.

Slice carrots and burdock. Chop up shiitake and daikon.

3.

Season mixing ingredients with A. Boil down together.

4.

Prepare fish. Leave skin on and slice into bite size portions. Use 20g of salt to cure the fish for 1-2 hours.
After which, place fish in B and allow to cure further. (Fish should go white due to reaction with vinegar)

5.

Make sushi rice by adding vinegar mix while hot. Add mixing ingredients and mix.

6.

When 5 cools down add fish slices and mix with rice. Sprinkle with sesame seeds.
Information provided by : Kumamoto prefecture village building association