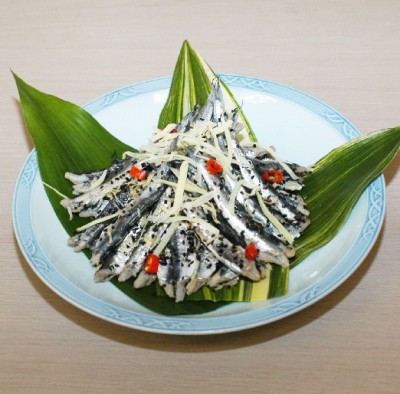 Chiba
A Chiba's typical local dish
Sardine marinated with sesame
Sardines are cooked in different ways, such as Shiokara (salted fish guts), Maburi Sushi, sesame marination etc.. sardines marinated with sesame is one of the most popular local dish , eaten as a daily food, as nibbles for drinks, and in special occasions among farmers and fisherman in the Sanbu region . Sardines are washed well and marinated in vinegar, eliminating fishy smell. Yuzu (Japanese citrus) and ginger is added later, making this dish an aromatic sea product.


for 10 persons
Sardines

1kg

Salt

100g

Black sesame

40g

Ginger

30g

Yuzu zest

1 yuzu zest

Red spicy pepper

2
[ Vinegar ]
Vinegar

1.5 cups

Sugar

1 Tbs

Sake

30cc
1.

Take out of head and inner and clean them under the running water.

2.

Drain the water, put salt over and leave it for one night.

3.

Wash 2 and drain.

4.

Mix the vinegar mix, pour over the fish until it fully covers. Let it marinate for 2-3 hours.

5.

Roast Sesame, cut ginger and Yuzu peel into skinny strips, take out the seeds from the red pepper and cut into small pieces

6.

Prepare deep container, place sardines, ginger, red pepper and Yuzu peel. Place sardines alternately. Seal it with plastic wrap and put lighter stone weight. (water from the fish will come out and make them firmer)

7.

When the water comes out, get rid of water for turning the container up side down. Dish and serve.
Information provided by : 千葉県 アグリライフ山武