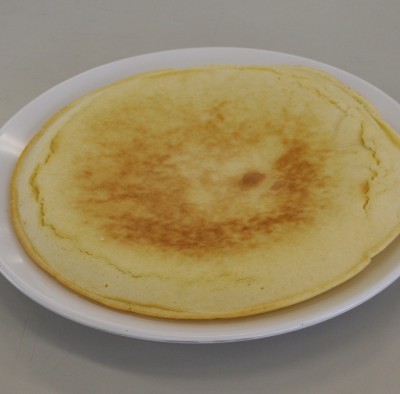 Wakayama
A traditional local snack since pre-War period in Naga Area
Funayaki
Funayaki used to be made with brown sugar and baking soda, and water was mixed into the powder mixture instead of milk. It is said that the name came from the shape of the pan called "houraku" which looked similar to the bottom of a ship. Since after 1965 when hotcake mix became popular in the households, Funayaki was not cooked at home so frequently anymore, but it is still a favorite recipe for cooking lessons at local junior high schools.

for 2 persons
flour

200g

baking powder

1 teaspoon

milk

1 cup

egg

1

sugar

1 tablespoon

oil

as needed
1.

Shift flour and baking powder.

2.

Put egg, sugar and milk in a bowl and mix well, add 1 and mix.

3.

Heat oil on a frying pan, pour 2 and cook over low heat. Flip and cook the other side.

4.

Cut and serve on a plate.
※Serve with honey if preferred.
Information provided by : 和歌山県 農林水産部 農業生産局 果樹園芸課