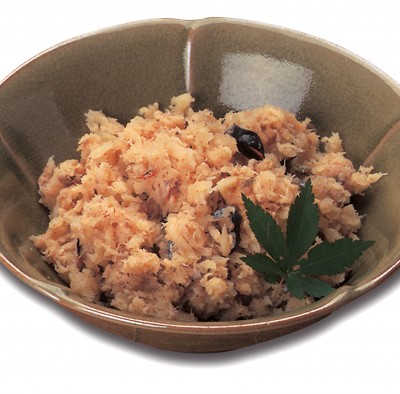 Iwate
Vinergared donko greenling - a must-have for new year celebration
Donko Namasu
Donko is the local name for greenling caught along the Sanriku coast. Donko Namasu is a traditional dish that originated in Tanohata Village, Iwate Prefecture. Since it is customary in the region to serve vinegared food with mochi rice cake, which is typically eaten to celebrate the arrival of new year, Donko Namasu is an essential dish during new year festivities.

for 10 persons
middle-sized donko greenling

1

daikon radish

1/2

soy sauce

1 tablespoon

vinegar

1 tablespoon

sake rice wine

1/2 tablespoon
1.

Gut the greenling – only the meat and liver are used for cooking. Grill the whole fish until it is completely cooked. Get rid of bones and flake the meat.

2.

Make a little box using aluminium foil, put the liver in, and simmer. When cooked, add soy sauce and sake. Simmer again.*Thoroughly cooking the meat and liver helps rid them of the fishy smell.

3.

Wash the daikon radish, grate it coarsely, and drain. Boil water in a pot, add the grated daikon,bring it to boil, and drain. Rinse under cold water, and drain.

4.

Squeeze the daikon thoroughly, and mix it with donko flakes and seasoned liver. Add vinegar to taste.
Information provided by : Agriculture Promotion Division, Iwate Prefectural Office