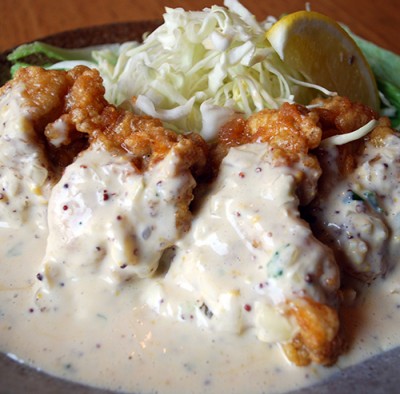 Miyazaki
A popular chicken dish served with sweet vinegar and a tartar sauce called "Chicken namban"
Chicken Namban
Chicken namban is a popular local dish of Miyazaki Prefecture known nationwide. This is deep-fried battered chicken which is dipped in sweet vinegar while still hot, and served with a tartar sauce on top. "Chicken namban" of today's style is known to have been invented by Yoshimitsu Kai, an owner of a restaurant "Ogura" opened in 1956. It is said that the dish was named "namban" as it originated from fish namban. Nobeoka city in Miyazaki Prefecture where the chicken namban was born has been promoting Chicken namban nationwide.

for 2 persons
chicken thigh

1 slice

salt

as needed

pepper

as needed

卵

1個

starch

as needed

flour

as needed
[ namban vinegar ]
vinegar

90cc

shoyu

90cc

lemon

1/8

sugar

5 tablespoons

chilies

2 pieces
[ tartar sauce ]
cucumber

1/2

onion

1/2

boiled egg

1

mayonnaise

as needed

whole-grain mustard

as needed

vinagar

as needed

salt

as needed

pepper

as needed
1.

Make Namban vinegar and tartar sauce

Put all the ingredients of in a pan and put on heat. Remove from heat once boiled, and cool it down.

Finely chop cucumber and onion into small pieces, and soak in water for 10 minutes. Put them in a cloth and wring out the water. Mix chopped egg, cucumber and onion together with mayonnaise. Add whole-grain mustard, vinegar, salt and pepper to taste.

2.

Make cuts on chicken to make it thinner, cut it into 4 pieces, and sprinkle salt and pepper.

3.

Coat the chicken slightly with starch and flour (mix 1 starch to 1 flour) and dip them in beaten egg.

4.

Deep fry the chickens at low temperature for about 5 minutes.

5.

Quickly dip the deep fried chicken in namban vinegar.

6.

Dish out the chicken and put tartar sauce on top.
Information provided by : 農山漁村の郷土料理百選