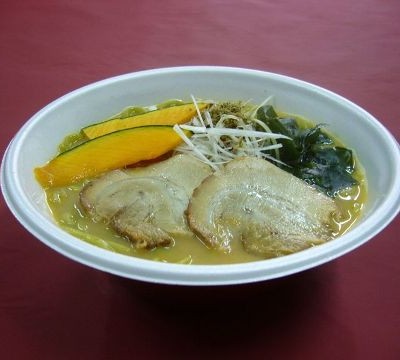 Kagoshima
Ramen full of pumpkins with a yellow soup and green noodles.
Kaseda kabocha ramen
"Kaseda kabocha (pumpkin)" is the very first product of the Kagoshima brand which is sweet with a light and dry texture. "Kaseda kabocha ramen" is a ramen dish made with a whole pumpkin. Noodles are made with powdered rind and flesh, and soup is made with pumpkin paste. Soups come in various flavors such as seafood, tonkotsu, salt and miso depending on each restaurant, and they all come with green noodles in a thick yellow soup. Some restaurants add deep-fried pumpkins on top. This is a healthy ramen dish with slight sweetness and aroma of pumpkins.