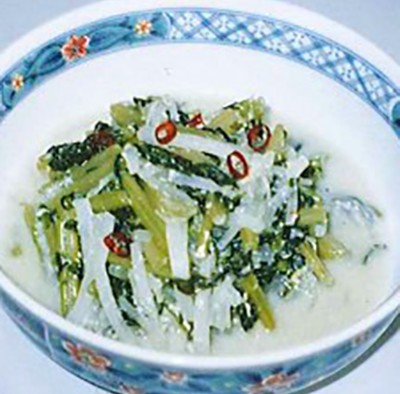 Toyama
The taste of its land necessary to celebration
Aimaze
The local food eaten at every region of the country as a hospitality dish of New Year's and a ceremonial occasion. The ingredients are completely different in all part person and a home, but because the ingredients which gave the flavor are added to each, it's said that they came to be called "Aimaze".

for 4 persons
Corning big grudge

50g

Japanese radish

250g
[ A: Seasoning ]
Sake lees

tablespoon 1

Fermented soybean paste

tablespoon 1.5

Guinea pepper with seven tastes

a little.

A dried kelp used as a base for soup stock

a little.
1.

Soybeans are soaked in water one night and it's returned.

2.

I grind(1) up by a blender and make it smooth.

3.

The taste is arranged with fermented soybean paste including(2) in boiled soup stock.

4.

The tofu cut into a throw is put in.

5.

It's heaped on a bowl and leek is scattered.
Information provided by : Etchu, Kingdom of the food