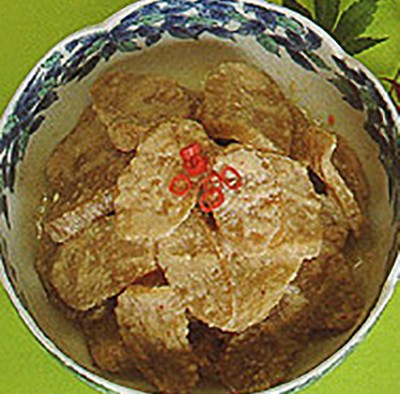 Toyama
A food of wisdom to make old takuan tasty again.
Furutakuannokasuni
A traditional local food of simmered old takuan which is pickled long until summer. This food was born to enjoy the old takuman by one small touch. Pan-fried old takuan is another dish of old takuan. Both of these are pretty easy to prepare, and these are one of the foods we should learn as the wisdom of the ancestors.

takuanduke

1

sakekasu

100g

water

200cc

shoyu or miso

as needed

a small amount of red chilies

as needed
1.

Slice takuan into desired thickness, and soak them in water to remove salt (leave some saltiness).

2.

Simmer 1 for 15 minutes, and drain.

3.

In a pan put water and sakekasu, and mix well until sakekasu dissolves.

4.

Add 2 into 3, and simmer over low heat for 20 to 30 minutes.

5.

Add shoyu or miso to taste.

6.

Remove seeds from red chilies and add into 5 to finish.
Information provided by : 越中とやま 食の王国