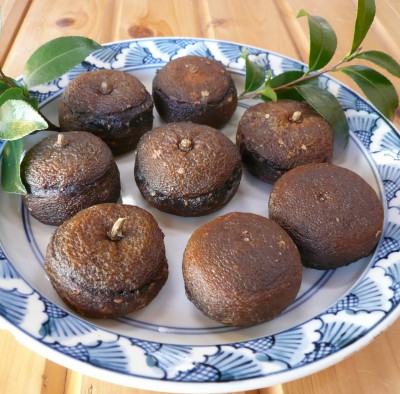 Saitama
The preserved foods I packed in the citron
Yubeshi
The dish by which YUBE SHI cored citron and packed the inside. You could also tell to have been born the time of the Genpei, and you enjoyed as preserved foods and a cell phone food. It's best in a relish taken with sake as a delicacy.

Citron

1kg

Rice flour

400g

Gold sesame

100g

Kurosuna

300g

Fermented soybean paste

proper amount

A dried persimmon

suitable
1.

Citron is cut into the width by the part where I put the lid (from the top, 1/4) and the contents are cored.

2.

The kind of(1) is taken, and ruins until it becomes creamy by an earthenware mortar.

3.

I roast gold sesame and ruin.

4.

The gold sesame breathed in in(2), brown sugar, fermented soybean paste and cut dried persimmon are added, ground and mixed.

5.

Rice flour is added to(4), it's often mixed together and it's kneaded each other.

6.

(5) is stuffed into(1), a part of a lid is given a ride and it's steamed for about 1 hour by a high flame.

7.

Arrange the shape and line up a basket, in the middle of winter, it's dried in the shade and it's dried up hard.

8.

I cut into thin slices and eat.
Information provided by : The folklore dish collection of the taste folklore man Saitama home in home