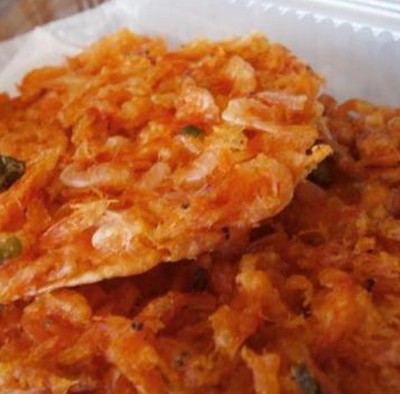 Shizuoka
Kakiage packed with gifts from the Suruga Bay.
Sakura Shrimp Kakiage
Raw sakura shrimp are mixed with chopped vegetables, dipped in a little batter and fried in oil. This dish lets you enjoy the aroma and sweetness of sakura shrimp along with the crunchy texture of kakiage tempura. Suruga Bay off Shizuoka Prefecture accounts for 100% of the domestic sakura shrimp catch, giving all sakura shrimp caught there the trademark Surugawan Sakura Shrimp, with Yui, the main fishing port boasting its own registered trademark; Yui Sakura Shrimp. Every year in May the 'Yui Sakura Shrimp Festival' held at Yui port, the main sakura shrimp port, attracts tens of thousands of visitors.