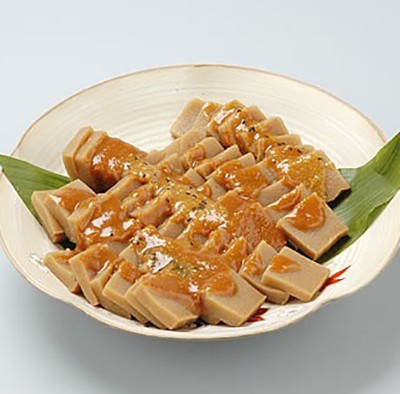 Kochi
Precious cultural asset that remains only in Aki city
Kashikiri (Kashi tofu)
Kashikiri is a tofu that is made of acorns of an oak tree. This has been an important food in the mountainous area where fields to grow crops and vegetables were limited. The task to make kashikiri used to be of the elderly who stayed at home. The origins are from the Korean peninsula, and people in South Korea still enjoy this. In Japan it is a precious cultural asset that only remains in Aki city.

oak acorns (skins removed)

5 cups

water

7-8 cups
[ nuta ]
sesame seeds, garlic leaves

suitable

miso

40g

rice vinegar

20cc

yuzu citron vinegar

20cc

sugar

30〜40g
1.

Remove skin from acorns. Put them in water so that the yellow acorns do not change their colors.

2.

Place acorns and water in a blender (divided into 5 times), and blend for 5mins each.

3.

Add water to 2. Change the top layer of water for about 10 times until the water becomes clear (it will take approximately 2 days until it becomes clear).

4.

Place the prepared acorns and water in a pot. Simmer slowly while mixing well until the starch becomes very thick (until it drops in lumps when held up with a wooden spatula).

5.

Put in a box and cool.

6.

Make nuta.

7.

Cut the kashikiri, serve on a plate and eat together with nuta.

8.

Around the end of October, go to the mountains to collect oak acorns. Dry
the acorns well under the sun. Cracks will appear naturally when dried enough (when "acorns laugh"). Remove the skin and put in water quickly. Make powder out of the acorns and simmer them. Stone mortars were used when there were no blenders.

Information provided by : oishifudokochi