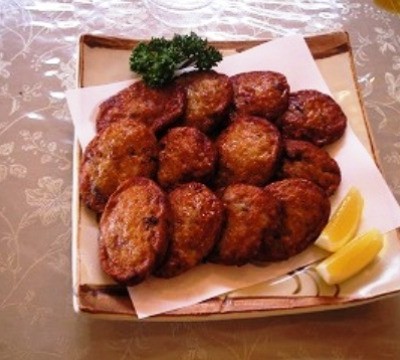 Shizuoka
Speciality of Ryoshimachi wickerwork. Heat, the dear taste which would like to stuff its mouth.
Atamiajiro ikamenchi
The traditional dish you're enjoying as the taste of the home and the taste of my mother "wickerwork squid minced meat". After adding cut squid and vegetables to minced fish of the fresh fish landed locally and taking a dumpling, it's the local food eaten through the fire. You can taste at a restaurant in Atami-shi, and I put toppings on the other curry offered as the set menu and an a la carte dish, and I coat in batter and offer it like a minced beef cutlet, and if, it's raised, it's baked, such as warming over a fire, the recipe is various. Squid minced meat of the freezing which can be cooked and enjoyed easily at home is also sold for gifts.