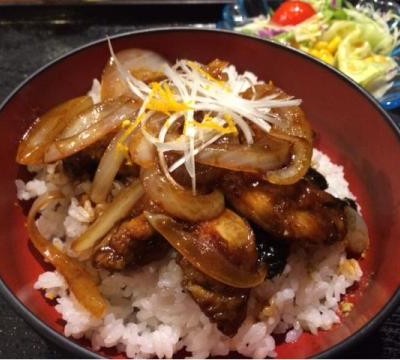 Shizuoka
A collaboration between Hamanako oysters and eel kabayaki sauce.
Kaki-Kaba Don
A rice bowl topped with a selection of local ingredients. Hamanako oysters are grilled in a sauce used for unagi (eel) kabayaki, also a specialty of Hamanako. The oysters are topped with nori from Hamanako and onions from Enshu, and garnished with lemon rind from Mikkabi mikan, resulting in a smorgasbord of local ingredients.
Hamanako, a brackish lake where sea and fresh water mix, is known for its bountiful seafood, including fugu (puffer fish), unagi, asari (clams), and oyster farms.
From early November until mid-March kaki-kaba don can be eaten at any of 16 shops (including one bento shop, as of December 2013) in scenic areas such as Kanzanji hot spring resort and Hamamatsu Flower Park. While each shop has a slightly different flavor, they are all worth the trip to enjoy a seasonal delight packed with oyster flavor.
Information provided by : ぐるたび