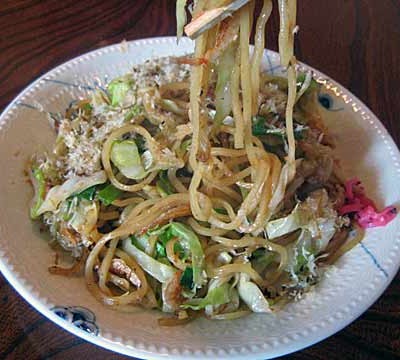 Shizuoka
A local version of fried noodles using sakura shrimp, a specialty of Shizuoka.
Sakura Shrimp Yakisoba
Sakura shrimp yakisoba (fried noodles) are a seaside town specialty containing dried sakura shrimp packed with aromas of the sea and goodness from the sun, and topped with dried sardine flakes, another local specialty. The sight of sakura shrimp, a specialty of Suruga Bay, laid out to dry in the sun like a pink carpet by the Fuji River, with Mt. Fuji in the background is a scene symbolic of Shizuoka Prefecture. Sakura shrimp have been caught in the region for over 100 years, and before refrigerators were around, people dried the shrimps for easy storage, and used them regularly at home. Sakura shrimp fried noodles is one of the dishes that originated soon after the end of WWII.